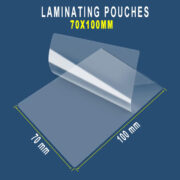 A7 Size (80*111) Laminating Pouches (High Quality)
A7 Size Laminating Pouches
Size : A7 (80X111MM)
Thickenss: 60/75/80/100/125/150/175/250 micron
Quantity: 100 pcs / box (pack)
Brand:  OEM (Welcome)
Color:  Clear & Glossy
Rounded Corners
Protect your documents with easy-to-use laminating pouches
■ Protect documents from tampering and damage and extend document life.  Resistant to tears and spills.
■ Enhance and preserve overall appearance of documents and photos.
■ F

ully compatible with all popular pouch laminators, including models from GBC, Fellowes, Scotch.
Please be free to contact us if any information is needed, thank you !